This page is for guidance on submitting VAT to HMRC as part of Making Tax Digital. Before you submit, you will need to run the VAT reconciliation.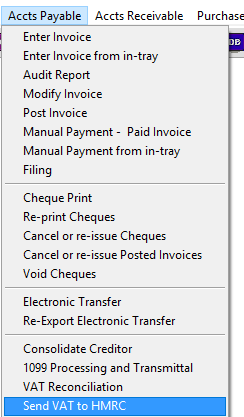 Go to 'Accts Payable > Send VAT to HMRC'
A box will appear displaying all VAT Reconciliations that the system has run with their current submission status. You can use the buttons in the bottom-right hand corner to query HMRC for information about your outstanding returns, liabilities or payments.

To make a submission, select the relevant VAT returns on the left-hand side, then click 'Submit'. If you have not yet authorized Moneypenny to make submissions on your behalf, it will request this first, more information on authorizing here.