Purpose
This menu item is used to reconcile your GST/VAT payments to your government. You can tick off exactly which of your outstanding transactions you are paying in this reporting period, and all those left will come up for payment next time.
How to use
To reconcile your GST/VAT, select  'GST/VAT Reconciliation' from the 'Accts Payable' menu as shown below.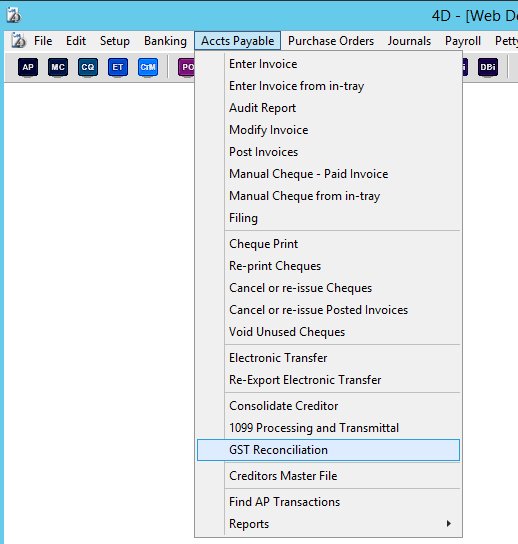 You will then be presented with the following selection screen.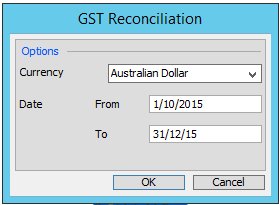 Select the currency that you wish to reconcile and the date range to use when printing the summary report. ie all T and S codes with a 0% GST for example that fall between that date range, will be added up for display on the summary report. Obviously these will not be shown on the reconciliation screen below as there will be no amounts for them in the GST Paid or Collected account numbers. They will only show on the Summary report after you reconcile.
When you press OK, any transactions not yet matched in the GST/VAT Paid or Collected account numbers (chosen in the 'GST/VAT Setup' screen),  will be displayed here. Please note any transactions with a document date after the 'To' date entered in the selection screen above will not be displayed for selection on the reconciliation screen below.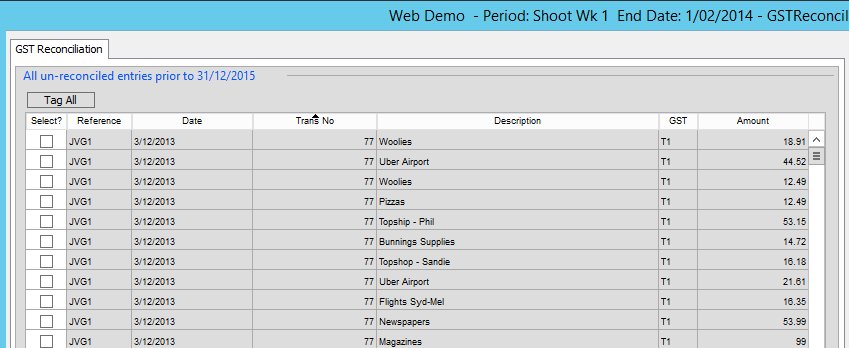 From here you can highlight individual entries to mark them as selected. You can also choose to highlight multiple records at a time, by using the normal shift-click and alt-click options. Once you have your desired selection, you can then right click to mark them all as selected.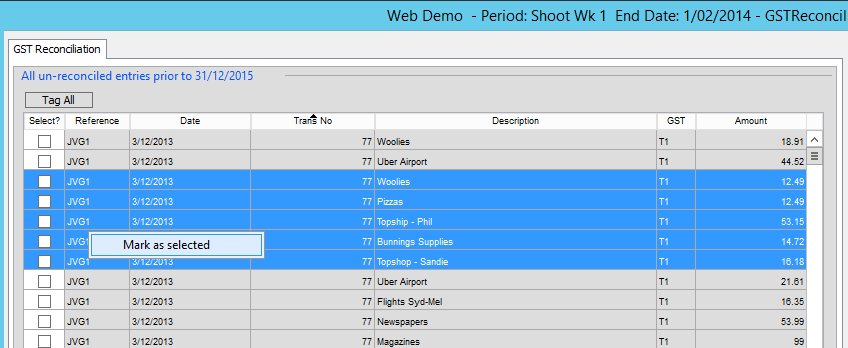 At any time, you can choose to save your current progress without reconciling, or print a draft copy of what the reconciliation reports would look like should you proceed with the actual reconciliation.
When you are ready to finalise your report, just press the 'Reconcile' button. You will then be presented with the following form.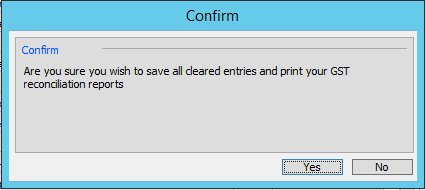 Once you press 'Yes', your selections will be marked as matched and will not come up again for future reconciliations. The following reports will then be produced from which you can meet the needs of your governments reporting requirements.
Summary Report

Matched Report

Unmatched report