Sending invoices for approval
The unposted invoices menu option will allow users to
● Modify invoices as required.
● Submit invoices for approval.
● Allow reminder notifications to be sent to approvers.
● Post approved invoices

Submit to PO approval
For any invoice that has a Purchase Order that has been matched to the invoice to send the invoice for approval, either select the invoice transactions one by one, or bulk select and click Submit to PO Approvers. This will send the invoice to the same people who approve the invoice, and will also follow the same logic with regards to Approval Thresholds for the value of an invoice if there was a monetary threshold against the Purchase Order.
Submit to selected approvers
For any invoice that does not have a Purchase Order, or if you want to change who the invoice is approved by you can click Submit to Selected Approvers. This will give you a list of people who have been set up on the system that you can use to send to for approval. You can select one or all people as required. Highlight the person/s required and move them to the column on the right-hand side and click OK. This invoice will then be available on the portal for approval, see below.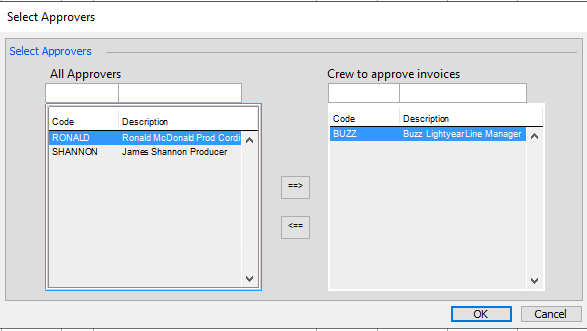 Invoice approval notification
Any person/s who needs to approve an invoice will only get one alert per day at 08:05 am.
Reminder / Urgent notification
Should any invoice be deemed urgent and or require a reminder to approver/s you can do so by right-clicking on the invoice (option is only available once it's been sent for approval). You will then be presented with the option to send a reminder/alert email which will be sent in real-time to the approver/s.

An email will be sent to the approver, with a PDF attachment which contains a merged document containing the PO information, any attachments added to the PO, the invoice, and additional documents added to the transaction. The approver is advised to log in to the portal, or they can click a link at the bottom of the email to approve the invoice instead.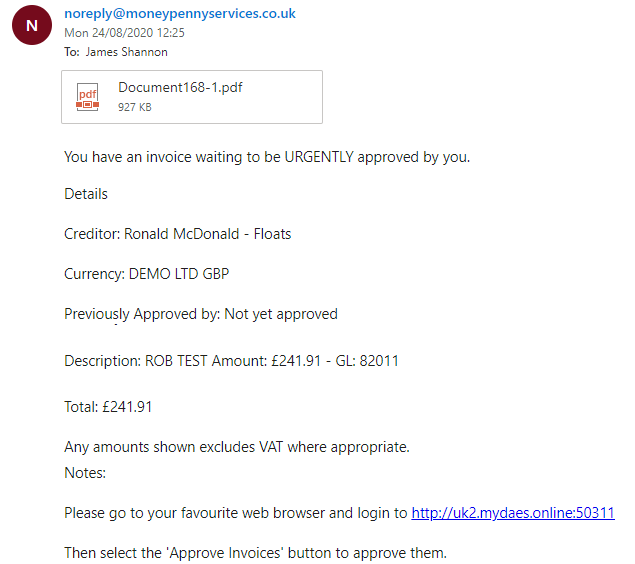 Related topic: Approving AP invoices via web portal