If you receive an error when clicking the URL provided in your starter or payslip email that states the site cannot be reached cannot be found there might be a few things to check.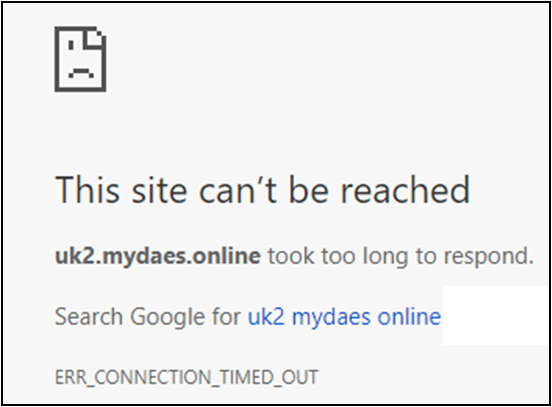 A firewall may be blocking the connection
Some businesses block connections to non-standard web ports on their internet. Try connecting using a different internet connection such as your phone or home internet. If this is the case you will need to contact the network administrator and request that they open the ports for you. The URL provided may look something like below:
http://uk2.mydaes.online:60002
In the above example, they will need to unblock both TCP ports 60002 and 60003 (one above the initial port). This will be different for your production. The IP they need to unblock can be found by running a ping on the URL, for example it may be:
uk1.mydaes.online = 78.31.107.205
uk2.mydaes.online = 78.31.107.206
aus.mydaes.online = 103.13.101.182
nz.mydaes.online = 103.49.172.3
sa.mydaes.online = 129.232.228.218
The project may be archived
If the project is old, it's possible that the project is no longer running and the URL has been disabled. If this is the case, please contact the production team for the information.