To modify your previously created purchase orders, either those you have entered directly into Moneypenny (via in-tray or without) and also those your have imported from Excel, select 'Modify Purchase Order' from the 'Purchase Orders' menu.

You will firstly see the following screen where you can locate which POs you wish to modify.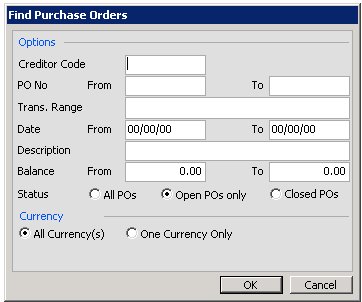 From this screen you can select a particular creditor/vendor code, a range of PO numbers, transaction numbers, dates or balances. You can enter in part of the description or choose to see only your open POs or your closed. You can also select by currency.
Once you have made your selection the following screen will be displayed showing all the POs that matched your selection.

Then just double click the entry you wish to modify and the 'Modify Purchase Orders' screen will open waiting for your changes.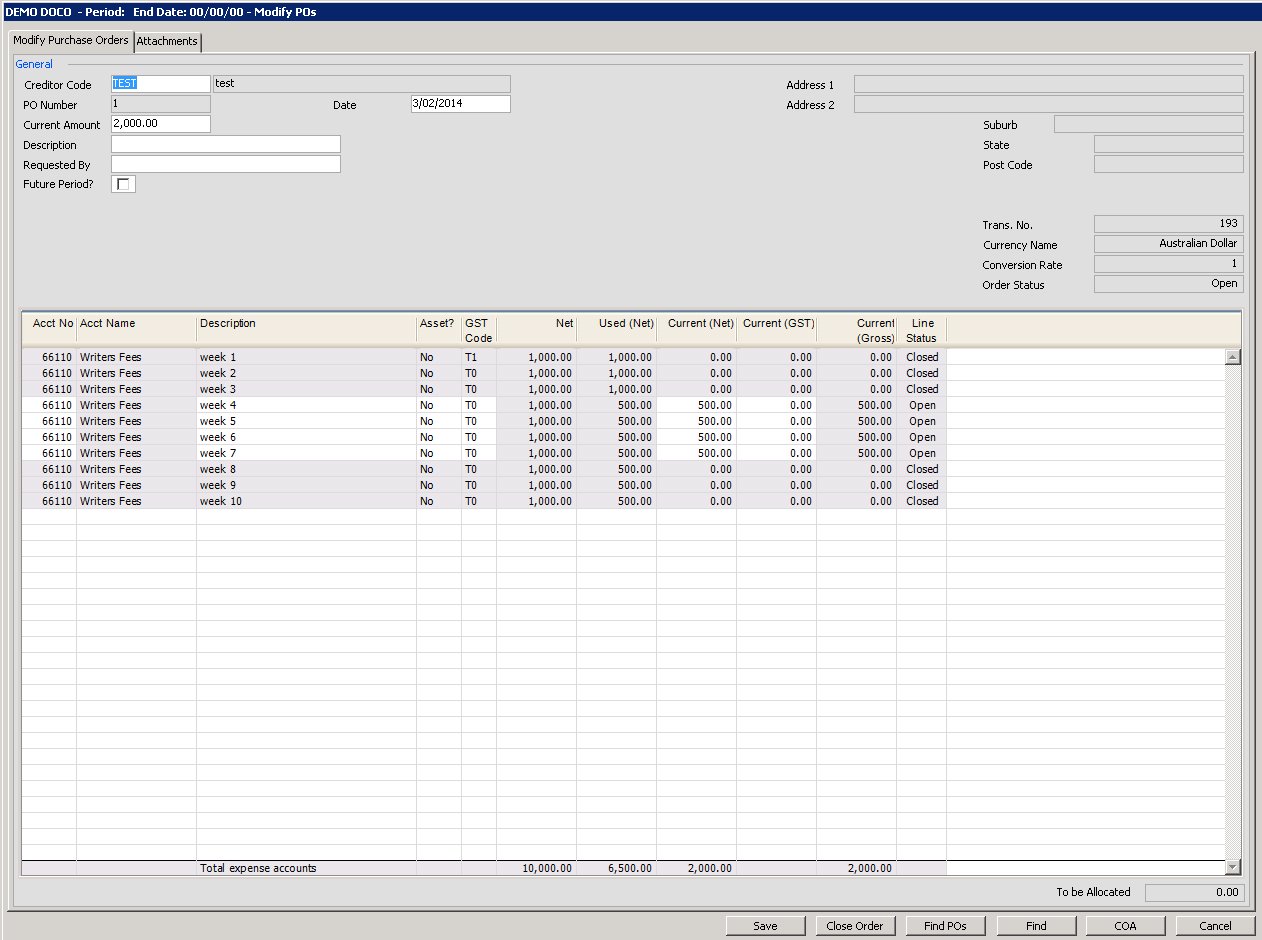 Please click on the image to view it full screen, then the back button to return.
This screen behaves almost identically to the 'Enter Purchase Orders', so please click here for more information on its general behaviour.
You will see a couple of small differences though. Firstly any closed PO lines will be shown in grey as they are no longer editable. The line status column on the far right also shows the status. There are several right click options available here as well so you can add in a new line, or more particularly if you right click on an open line, you have the option to close that line. If you right click on a closed line, if the line has not been entirely used, you can choose to re-open it.

At the bottom of the screen you can press the 'Find POs' button to bring up the 'Detailed PO' report or press the 'COA' button to bring up the chart of accounts look-up screen (which can be turned off for a particular user in the 'Users' setup menu). For more information on the behaviour of the COA button click here. For more information on the users setup menu click here. You can also press the 'Find' button to run the 'Find Transactions' report or else close the entire PO, or re-open it (assuming again that the PO has not been entirely used).