Please note that a number of places in mydaEs can use different wording onscreen depending on how your project has been designed by the Moneypenny support staff. The menu item may be called something different on your project, like Episodes/Series/Company-Currency. Contact your mydaEs support staff member for more information.  For the purposes of documenting it here, we will just refer to it as the 'Locations' menu item.
To enter in new Locations or edit your existing select the 'Setup' – 'Locations' menu item as shown below.

You will then be presented with the following screen.

This will show all the locations in use on your project. You can add in new locations by pressing the 'New' button at the bottom of the form as well as double click an entry to edit it.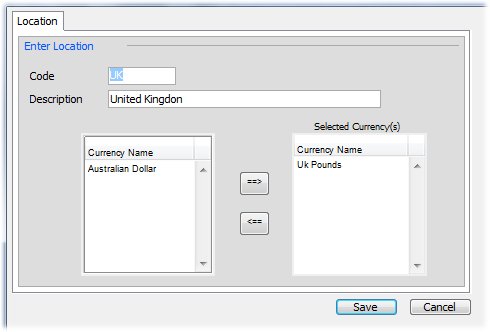 From here you can assign a location code and description as well as lock this location to a particular currency, so that your users do not accidentally use a UK location with the wrong currency.